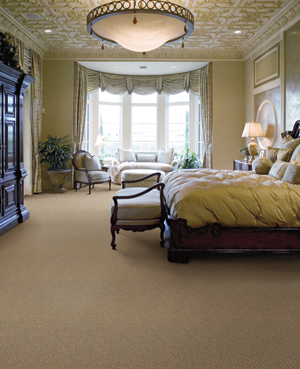 Are you looking for the perfect finishing touch for your bedroom, kitchen, bathroom, or any other space in your home? Consider putting in some new window treatments. Compared to a lot of other ways you could transform the look of your living area, a new set of drapes is cost-effective and can change the look of the entire room.
At our showroom, we want to make sure you have everything you need to make your home look just the way you want. From the floors to the windows, our professionals are here to guide you through every step in the process, whether you want to go little by little or get it done in one fell swoop.
Add extra privacy and appeal to your home with window coverings. Available in so many different styles and colors, our window shades, blinds, and curtains create the look you want in your home. Accent your existing home décor, or try something new. If you need help choosing the right product, our design experts can help. We'll determine your needs and price preferences, and then discuss your options. Allow us to bring your home décor together and create the look you want.
There's no need to limit yourself when you want to decorate the window at your home or business. Some big-box stores only carry a small selection of window coverings and treatments. Because we are a part of a nationwide chain of stores, we have a large selection in stock. From drapes and curtains to vertical and horizontal blinds, you'll find just what you need at our showroom.


Customize the Windows in Your Kitchen and Bathroom
One of the best ways to really add some personality in your home is to add fabrics with colors and patterns that speak to you. Some people look at a kitchen and think fabrics aren't appropriate, but that's where our kitchen window treatments come in. Whether you want short curtains for your over-the-sink window or longer ones for a door leading to the outside, curtains can soften up the space or make it feel more vibrant.
The large windows in your bathroom felt like a great idea when you bought your house, but now you feel too exposed to your neighbors. Don't regret the natural light you wanted—just install some bathroom window treatments, which you can choose from our stunning collections. With some sheer linen curtains, you can still let the light in while blocking the view from the outside. Or you can get thicker curtains for even more privacy.
Get the color, pattern, and thickness of drapes you are looking for by browsing through our showroom. Our sales staff and designers help you narrow down your options based on your style and current décor. We have years of experience in the home improvement field and have people on our team who can help you choose colors and patterns that complement your interior design without being too distracting.
Not all window treatments are the same. If you are looking for versatility, creativity, and affordability, then our window treatments are the way to go. Available in many different varieties for residential and commercial customers, the brands and styles we carry provides smart, beautiful, and practical solutions for our customers.
In addition, you never have to worry about installing your new product on your own. Our installation team takes care of all of the work for you. From selection to measurements to complete installation, we do it all. Simply choose your blinds, shades, or window treatments, and we'll bring your concept to life.


Add Charm & Character to your Windows
Bathroom, living room, bedroom, and kitchen window treatments offer a vast amount of advantages for your home. Not only do they provide a beautiful finishing touch to the room, but they also offer many practical benefits. You can maintain your privacy just by shutting your window coverings. This helps you maintain your peace of mind and personal security as any possible intruders won't be able to see inside your house.
If you struggle with keeping your home cool in the warmer months, window treatments shade your home from direct sunlight. You also bring down the impact of high energy bills and sun-faded furniture. If you still want to enjoy some natural light without giving up your privacy, you can opt for a double layer of drapes. The first is a semi-sheer layer that diffuses the natural light, while the second layer is thicker and can be drawn closed for more complete shade from the sun. Our specialists are knowledgeable about all of the products we offer and are happy to guide you every step of the way.


Benefits of Blinds, Curtains, & Drapes
Are your old and dusty blinds, drapes, and curtains diminishing your home's appeal? Give your living area an upgrade with new window treatments in your rooms. We have a large selection of window coverings that add ambiance to your place and let you control the amount of sunlight you want in your rooms. Why settle for boring blinds, shabby shades, and drab drapes? Instead, rely on us for quality and stylish window fashions. Some of the benefits of a window treatment include:
Adds Light to Your Home
Gives You Control over the Sunlight
Improves Your Home Décor
Provides Privacy
Helps You Save Energy & Utility Costs
Prevents Fading of Furniture
Whether you need kitchen and bathroom window coverings or window fashions for your bedrooms and living room, we have both functional and fabulous-looking products at our store. In addition, because we are a part of a nationwide chain of stores, we ensure you are never limited by a few products.


Contact us today to learn more about our window treatments. We proudly serve customers in and around Fort Dodge, Webster City, Humboldt, Eagle Grove, and Clarion, Iowa.
Professional Design Services Are Available