Vinyl Flooring in Fort Dodge, IA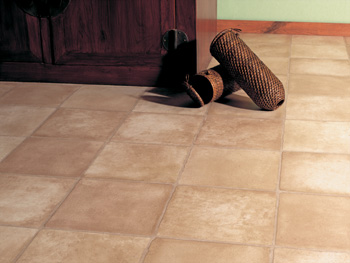 Do you love the look of hardwood flooring and think it would be perfect for the entryway in your home? Maybe you want to add ceramic tiles in your kitchen but simply cannot afford the cost. You can get the look of premium flooring at a fraction of the price when you purchase vinyl floors.
Our flooring store boasts a diverse selection of vinyl flooring in a variety of different styles. You can choose vinyl tile flooring that mimics the appearance of real ceramic, as well as vinyl plank flooring that offers the authentic look of hardwood. After you choose the ideal design, trust our flooring professionals to handle the vinyl flooring installation.
Extensive Vinyl Design Options
Vinyl sheet flooring is not just a great value purchase but also a very functional flooring option. It is extremely resistant to mold, mildew, and stains, which is why it is a popular choice for both kitchens and bathrooms. You do not have to worry about changes in temperature or humidity causing the floors to warp as others might do. The ease of maintenance, attractive appearance, and affordability make vinyl flooring an excellent choice for any home.
These floors are also easy to maintain similar to other hard floors. Mild detergent and water are typically all you'll need for basic maintenance. With proper care, a vinyl floor will last for years to come.
Tile is a popular choice among homeowners for spaces that see a lot of moisture. The non-porous qualities of ceramic are perfect for repelling water, and the various color and design combinations allow a homeowner to make the space unique.
What makes vinyl tile such an attractive alternative to tile is that it manages to mimic the appearance of ceramic while also keeping some of its other inherent characteristics. Vinyl tile is typically comprised of fiberglass, PVC, a decorative film, and a transparent wear layer. The fiberglass and PVC make it rigid, ensuring it holds up under heavy foot traffic and impact. These materials are also non-porous, similar to ceramic, so you don't have to be as concerned about water damage or mold growth.
Thanks to advancements in imaging technology, the designs and patterns of vinyl tile flooring are more realistic than ever before. The colors and patterns look completely natural and are incredibly detailed, right down to the grooves of natural stone or even hardwood. The top wear layer protects the image you see, so you don't need to worry about pets scratching or staining your investment.
Design flexibility is one of the biggest reasons people choose vinyl tile flooring. If there is a particular pattern or color you have seen with ceramic tile, we can find vinyl floors that look virtually the same. Combine a ceramic or porcelain style with grout, and you have an attractive floor at a fraction of the price.
The same is true if you want vinyl plank flooring that mimics the natural appeal of hardwood. Choose from different styles that copy natural wood, including oak, maple, cedar, and more. The copies mimic the details of hardwood right down to the knots, grooves, and texture. Hardwood generally maintains a malleability quality to it, which is copied to a degree with the soft underfoot of the vinyl. The wear layer of vinyl plank flooring mimics that of some of the softer species of wood, and is easier on stiff joints than some other materials. Additionally, this soft layer is able to hold warmth, only enhancing its comfort and luxury.
Homeowners choose vinyl sheet flooring for a number of reasons. A popular reason for growing families and landlords is that vinyl floors can serve as an excellent, temporary solution. Some view their home as their primary investment, and hold out for upgrades until they've had more time to properly conceptualize their long-term vision.
Vinyl plank flooring delivers impressive performance and longevity. A homeowner can expect anywhere between about seven and 15 years of performance depending on maintenance and other environmental factors. Your purchase is protected with customer-friendly warranties on labor and materials, giving you peace of mind that your floors will look great for years to come.


Vinyl Flooring Installation from Qualified Experts
If you want attractive flooring at a great value, vinyl is a smart choice. Trust our experienced contractor for vinyl flooring installation, though, as hiring an inexperienced installer may yield uneven results or a floor that's become unattached from the subfloor.
Count on our pros to handle the installation of your vinyl flooring. We have the experience and the staff to handle installation in a very little amount time while still providing amazing results. We'll take accurate measurements as part of your free estimate, ensuring you receive the best value and aren't overcharged for more materials than you need. You can request the installation to take place during a time that is convenient for you. We arrive promptly and ensure the installation happens without any problems, leaving you with a beautiful and perfectly level surface.



Contact us today to request our free room measuring service. We proudly serve customers in and around Fort Dodge, Webster City, Humboldt, Eagle Grove, and Clarion, Iowa.
Professional Design Services Are Available