Tile Flooring in Fort Dodge, IA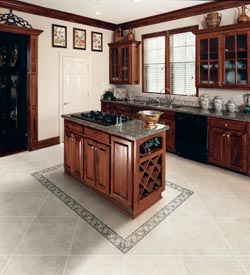 Elevate your space by upgrading the floors. Designers, architects, and property owners can find tile flooring in Fort Dodge, IA, that aligns with their style and budget. Tile flooring is not only beautiful but also durable and affordable. At our flooring showroom, we have a large and impressive selection of porcelain tile as well as ceramic tile flooring for residential and commercial customers.
The Benefits of Choosing Tile
A wise, appealing, and cost-effective flooring option for all rooms and many purposes, you simply cannot go wrong with tile. Tile floors date back to ancient times, and it is long-lasting, easy to clean, and available in many varieties.
Stunning Porcelain Tile
Elegant and highly durable, porcelain tile is an excellent choice for home and business owners. We invite you to stop by our flooring store to learn about the advantages of porcelain tile. Composed of quartz, clay, or feldspar, it is available in many colors, styles, and sizes. It is an excellent choice for the kitchen and bathroom.
Give your home a modern feel with porcelain. Water-resistant and strong, this tile lasts for decades and is easy to maintain. Plus, it reduces the allergens in the air. Simply sweep your porcelain floors once or twice a week and follow with damp mopping. This removes dust and dirt to keep your floor looking as beautiful as it did when it was first installed.
Add distinct ambiance to your bathroom, kitchen, hallway, or living room with ceramic tile flooring. Like porcelain, ceramic is also durable, water-resistant, and ideal for any room. However, it is softer than porcelain, making it less brittle and easier to cut during the installation process. In addition, it is a very affordable flooring option. Ceramic and porcelain tile are both available in wood-look tile fashions for some contemporary flair.
You will especially enjoy your ceramic tile for its ease of maintenance. Because it is glazed, it is simple to clean. Just sweep and damp mop once a week and your floors will be fresh and sparkling. This is the best way to ensure the appeal and longevity of your ceramic tile.
Professional Service Backed by Strong Warranties
To ensure a strong and lasting foundation, we recommend the professional installation of your porcelain and ceramic floor tiles. Our experienced installation technicians work efficiently so your tile is properly installed and grouted. This ensures a solid, smooth, and even surface.
At our flooring store, we make sure you are completely satisfied with our services and products by providing an Ultimate Confidence Guarantee. Know that we stand behind all of the services and products that we sell. Any installation-related issue is covered for the lifetime of your floors.

Want to learn more about porcelain and ceramic tile floors? Contact us at the Carpet World Flooring America showroom today at <PHONE>! We proudly serve the communities of Fort Dodge, Webster City, Humboldt, Eagle Grove, Clarion, IA, and the surrounding areas.
Professional Design Services Are Available