Durable & Classic Tile To Upgrade Your Floors or Backsplashes
Tile Flooring in Fort Dodge, IA
Visit Flooring America Design Center when you need to replace your worn-out floors or desire a new interior design for your home or office. With our vast selection of residential and commercial tile flooring, the design possibilities for your space are limitless. We carry tile in a variety of cuts, sizes, finishes, and colors. With our tile flooring options, you can give your home a traditional or modern upgrade that fits your style preferences.
When you visit our showroom in Fort Dodge, Iowa, you can browse our selection of porcelain, ceramic, and stone tiles that are ideal for kitchens, bathrooms, family rooms, offices, and outdoor spaces since they are resistant to moisture, stains, and external weather. Our team of flooring specialists will help guide you to the best tile flooring options for your budget and renovation project. We will show you tile samples from the top-quality brands that we are proud to partner with. Visit our showroom today to discover the tiles from the finest name brands, such as:
Emser Tile

Shaw

Mohawk

Daltile

Floorcraft

Happy Floors

Spotlight Values

American Olean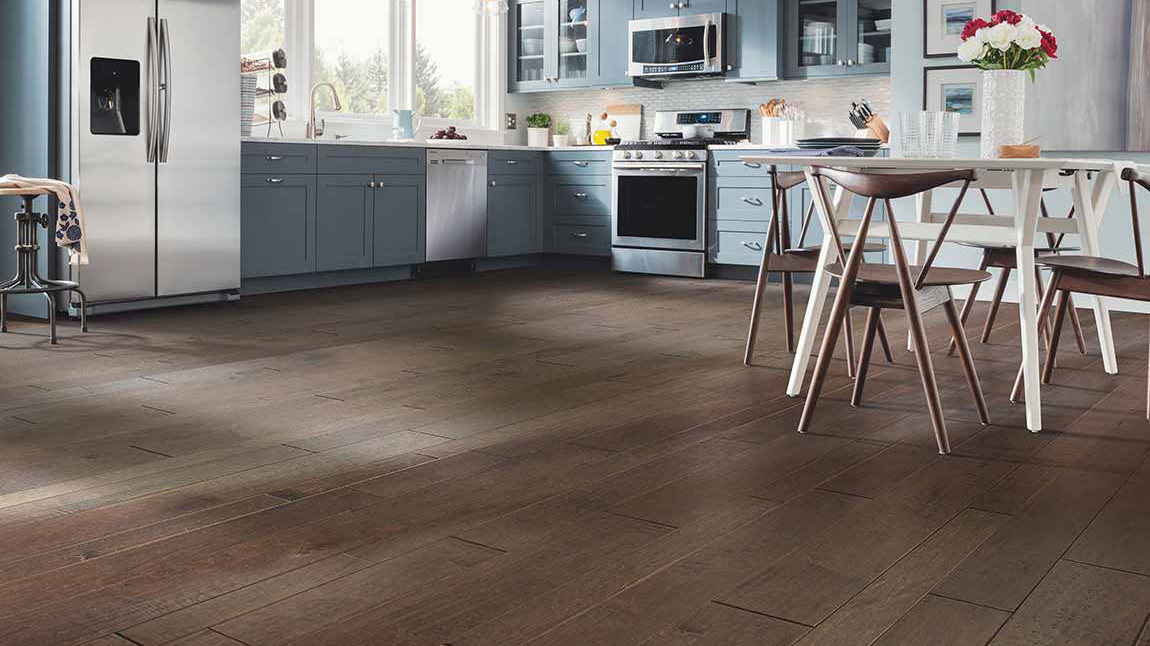 A Broad Tile Selection
Our tile options are resistant to heat, scratches, fading, stains, and water. Tile is the best flooring choice for those who are looking to fully customize the appearance of their floor, patio, or backsplash. Choose between dark and light variations, differing grain styles that range from subtle to notable, or a marble or wood appearance. While other flooring choices such as carpet, vinyl, and hardwood are limited to interior design only, tile is very adaptable and can be used as an outdoor walkway, a backsplash on a wall, or an interior floor plan. Learn more about the different tile types we carry:
Ceramic
Ceramic tile is a very versatile and durable floor covering that lasts a lifetime. This tile resists moisture, stains, intense temperatures, and damage. Our ceramic tiles are developed using kiln-fired clay that is available in a variety of forms, sizes, and colors. It can be left either unglazed or glazed-coated once it has cooled.
Porcelain
Porcelain tile offers elegance, protection, diversity, and long-lasting quality. Porcelain is less dense, less porous, and harder than other types of flooring, making it perfect for bathrooms and kitchens where there are high levels of traffic and activity. Porcelain tiles are made from fine, dense clay and are fired at high temperatures to ensure their sturdiness.
Stone
From beauty to adaptability, stone tile offers numerous benefits. Stone tiles such as granite, slate, marble, and travertine are natural materials with unique colors and patterns. These stones are diverse and come in various hues ranging from greys to black, green, red, gold, and more. Stone is strong and lasts for many years. Stone tiles are perfect for outdoor spaces like patios or indoor spaces where you are looking to add an organic feel.
The Wood-Look Tile Advantage
Enjoy the beauty of solid hardwood, along with the ease of maintenance and everyday durability of tile. Wood-look tile is ceramic or porcelain tile flooring that takes on the appearance of hardwood. This type of tile is made to capture the authentic grains, swirls, and patterns of different wood species such as oak, birch, and more. The final product is a high-resolution tile image that is perfect for any style of choice. Wood-look tile's strength allows it to be installed in spaces that genuine hardwood normally can't go, including the kitchen, bathroom, and basement.
Wood-look tile is a smart investment for many reasons. The most important is the wood-look tile's resistance to water. This is because genuine hardwood planks can warp when they come into contact with any moisture or standing water, while wood-look tile repels water, dirt, dust, and other stains. This makes cleanup and maintenance quick and easy.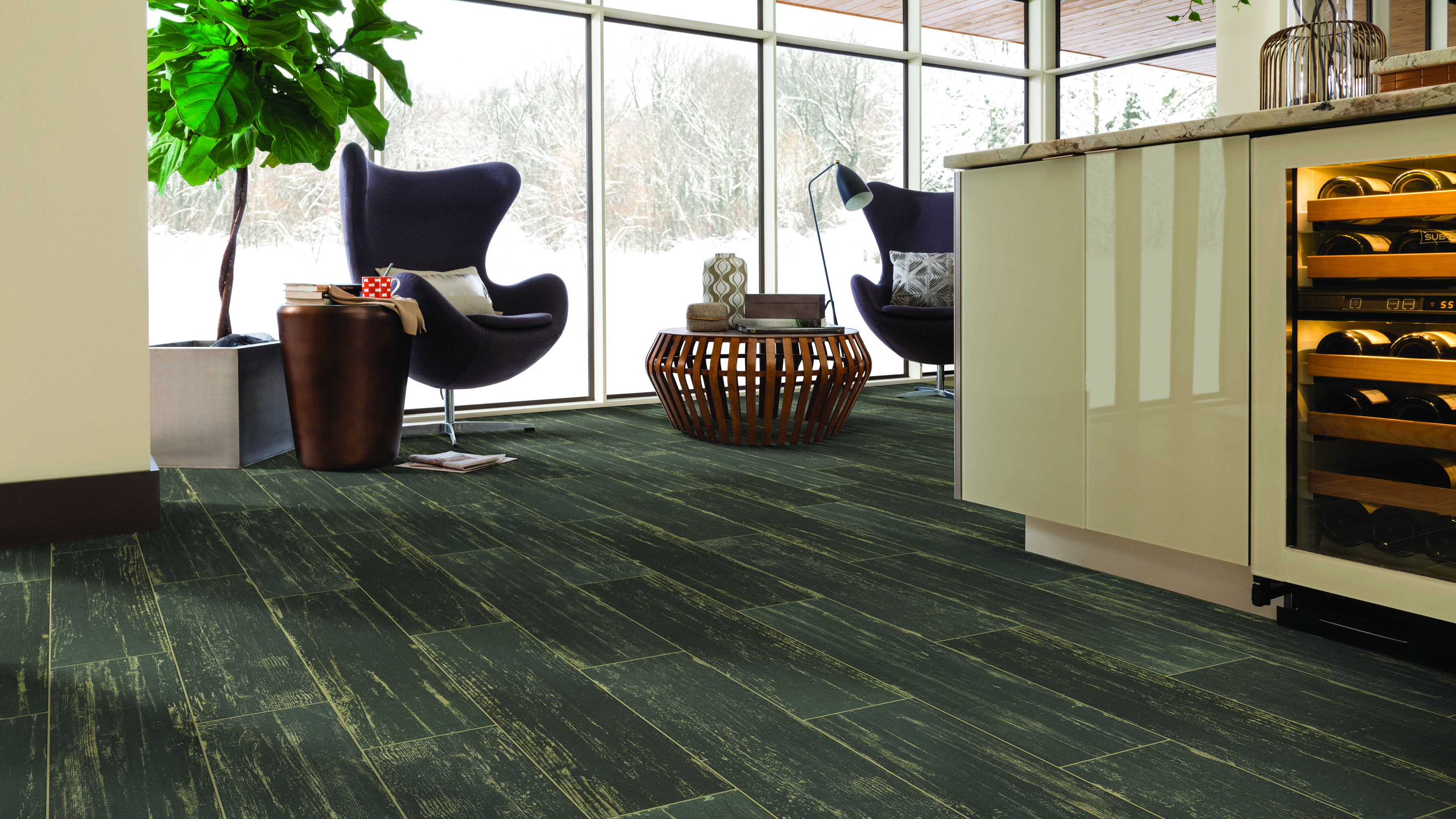 Easy Maintenance for All Types of Tile
One of the reasons tile is a popular flooring choice is because its maintenance is unbelievably easy. All it takes to keep your new tile floor in good shape is regular sweeping or vacuuming and weekly mopping or cleaning with a non-abrasive cleaner. Tile flooring is also great for people with allergies or asthma because it doesn't hold onto dust, pet dander, or pollen. It simply rests on top of the tile until you simply clean it away. For a heavy-duty clean, strong solution all-purpose cleaners can be used on non-glazed tiles, while unglazed tiles can be treated with paste, water, and scouring powder. We recommend consulting your tile's warranty before using cleaners with harsh chemicals as they could damage your tile's finish.
Installation Services
Our commitment to you doesn't end after you've selected and purchased your new tile. Once you've found your perfect tile, we'll handle the tile flooring installation from start to finish. From measuring, cutting, and installing, our experienced installation team will make sure your new floors are fitted perfectly the first time around.

We offer comprehensive flooring care and provide you with our full inventory, expert advice, and professional flooring installation services. While our craftsmanship speaks for itself, our tile products are backed by some of the best warranties in the industry, including our Ultimate Confidence Guarantee. If you find yourself unhappy with our work, give us a call within 30 days of your installation. We will gladly replace your new floor with a similar model, free of charge.
Contact us to learn more about our tile flooring options. We proudly serve customers in Fort Dodge, Webster City, Humboldt, Eagle Grove, Clarion, IA, as well as the surrounding communities.