Luxury Vinyl Tile in Fort Dodge, IA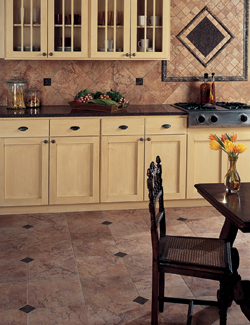 Start the planning process for your home improvement project at Flooring America Design Center. We want you to live in the home of your dreams, so we offer a broad assortment of flooring options and the design assistance you need to find the right product for every room. When you need the warmth and charm of hardwood flooring in your laundry room and basement, the solution is luxury vinyl tile in Fort Dodge, IA.
Natural wood planks can expand and contract when exposed to standing water and excess moisture. As great as this floor covering is in places like your dining room or bedroom, areas with higher levels of moisture need a greater leave of endurance. Traditional vinyl is water resistant and provides greater give underfoot, but many of our clients want additional texture and character that is now possible with a luxury vinyl tile floor. The manufacturing process provides you with a floor that features the performance of vinyl and the appearance of traditional hardwood, slate, and stone.
Learn about what makes luxury vinyl such a unique product and identify a product that meets all of your flooring needs. Our 5-Star Selection System helps clients identify a flooring product they want with the guarantees and installation warranties the need.


Versatile Luxury Vinyl Tiles
When you sit down for a consultation at our flooring showroom, our design team can match your plan with a product that fits every room. While many believe they will have to sacrifice the look they want for the performance they need, luxury vinyl offers the best of both worlds. Luxury vinyl is easier to clean, and the look is sure to catch anyone's attention.
Choose an experienced contractor for vinyl flooring installation, and get the functionality and appeal you deserve. We do everything we can to ensure your flooring choice is installed the way you want, so you won't have to worry about repairs down the road.


Value-Added Luxury Vinyl Tiles Floor Installation
Protect the subfloor below your basement and get the most value from your flooring investment when you choose a group that listens. Luxury vinyl planks and tiles are designed to withstand spills and resist fading for years to come. While some floors may need to be torn out, and subfloor damage must be repaired, LVT can be installed above a variety of existing flooring products.
Purchase an LVT floor and minimize the echoes and loud noises throughout your home or business. Residential customers that are planning to put their home on the market for sale should consider replacing their existing flooring. Area businesses can also benefit from the fresh look and added protection that comes with this type of flooring.



Contact us today to learn more about the functionality and appeal of luxury vinyl tile. We proudly serve customers in Fort Dodge, Webster City, Humboldt, Eagle Grove, and Clarion, Iowa, and surrounding communities.
Professional Design Services Are Available