Laminate Flooring in Fort Dodge, IA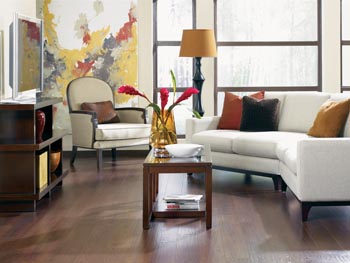 Enjoy the look of hardwood, stone, or tile without the hefty price. Laminate flooring in Fort Dodge, IA, is the perfect choice for a simple flooring option that is easy to maintain and will last. We invite you to visit us at our flooring showroom to talk to our knowledgeable sales associates about the merits of using laminate coverings from the industry's top brands for your home or business. Be sure to ask us about our laminate flooring installation options.
Laminate Floors from Top Brands
Have confidence knowing that you are buying quality, laminate floors at our showroom. We work with trusted manufacturers to give you great variety and dependable materials. Choose from the following well-known names in laminate when you install new flooring:
Mannington™: This laminate flooring features a proprietary process of printing and finishing, resulting in realistic laminate that looks exactly like stone and wood flooring styles. Mannington laminate floors are manufactured from ThermoComposite™ Construction, fusing five distinct components together in a single step in order to produce a high-quality floor that is extremely durable at the same time.
HomeCraft™: Marry the marvels of manufacturing to durability and the union produces stunning laminate that lasts. The HomeCraft collection is ideal for new homeowners who want beautiful and reliable flooring that resists wear in all the rooms of your house. You'll love having a flooring option that matches anything you want when it comes to decorating.
Mohawk™: Mimicking nature means your laminate flooring possesses all the beauty of real wood. These sophisticated styles combine the beauty of real tree species such as oak and cherry with the amazing durability and moisture resistance you want from your floors. Plus, maintenance is a breeze.
Pergo™: Select stone, tile, and wood laminate that is as gorgeous as the real thing, Pergo laminate is a popular choice for homeowners. Simple to install in your home and backed by some of the top warranties in the industry, you'll find that Pergo laminate floors are one of the best choices out there. They offer the full range of textures, colors, and styles that you want to add a touch of personal pizzazz to any part of your home.
Shaw™: Is it hardwood or ceramic tile, or is it laminate? It is impossible to tell with Shaw flooring. It offers the colors and textures of Mother Nature. You'll discover that Shaw laminate is a truly innovative combination of functional design, effortless style, and enduring quality. We know that this flooring collection will offer you everything that you are looking for.
Armstrong™: High-performance flooring with the look and endurance of wood, stone, and tile is yours when choosing Armstrong. This flooring option offers a unique texture and grain that gives you the stunningly realistic beauty you want from your floors. Plus, the maintenance required for these floors is quick and simple. What more could you ask for?


Laminate Tile Floors
Installing laminate tile flooring is a fabulous option for upgrading or building your home. The benefits of tile flooring include ease of cleaning, durability, and versatility. You know that you are making a smart initial investment. Chooset from an enormous range of design choices. You will love having tile that matches the look and feel of stone or marble, and you also have the option to add grout lines and patterns for an enhanced visual appeal.
Laminate Wood Floors
Get that old-fashioned look with laminate wood flooring from our store. We offer flooring options featuring surface embossing for true realism. You can choose from a variety of wood grains in order to match the style that suits your tastes. From rustic charm to modern chic, our vast selection allows you to explore your creativity. Both laminate tile flooring and laminate wood flooring are truly excellent choices. The decision is up to your sense of decorative style and the look you are trying to achieve in the room, as well as the level of traffic you expect the room to have.
Professional Laminate Flooring Installation
Once you decide that laminate is the ideal choice for your household, complete the process with our professional laminate flooring installation. We ensure your proper installation will last for many years to come. Plus, we offer competitive rates for our installation services.
Over the years, our locally owned flooring store has helped countless customers in the community choose flooring that fulfills their requirements for looks, style, price, and quality. To ensure that you are happy with your laminate floors, we urge you to use our professional installation services. In our experience, this makes the difference between flooring that is flawless and long-lasting, and flooring with mistakes and ruined warranties.
Laying flooring for durability requires experience. Let our technicians put their knowledge to work for you. They properly prepare the subfloor and then put down the flooring so that it fits correctly and smoothly. In this way, the flooring adheres to the subfloor and does not rise up and buckle or tear. A flooring that is installed properly resists damage and lasts for many years.
The Ultimate Confidence Guarantee
Durable and stylish laminate floors are perfect for a busy household with children and pets as four layers of material make up this flooring. Laminate offers strength, protection, and realistic beauty. Our flooring store provides you with our Ultimate Confidence Guarantee™ when you buy select flooring from us or have it installed by our professionals. This lets you know that we stand behind our products and services.

Contact us if you have any questions about our laminate flooring options. We proudly serve Fort Dodge, Iowa, and the surrounding areas.
Professional Design Services Are Available