Find Durable Designs with Laminate Flooring
Enjoy the look of hardwood, stone, or tile with the budget-friendly price of laminate flooring. At Flooring America Design Center, we carry laminate flooring that is perfect for active households. Laminate flooring is a simple floor model that is easy to clean and lasts for many years. Invest in laminate from the industry's top brands if you want to upgrade your home or business with new flooring. We are here to help you every step of the way, from choosing the perfect laminate floor to installations. Visit our showroom in Fort Dodge, IA, to browse our beautiful laminate selection and discuss your project with our flooring experts today!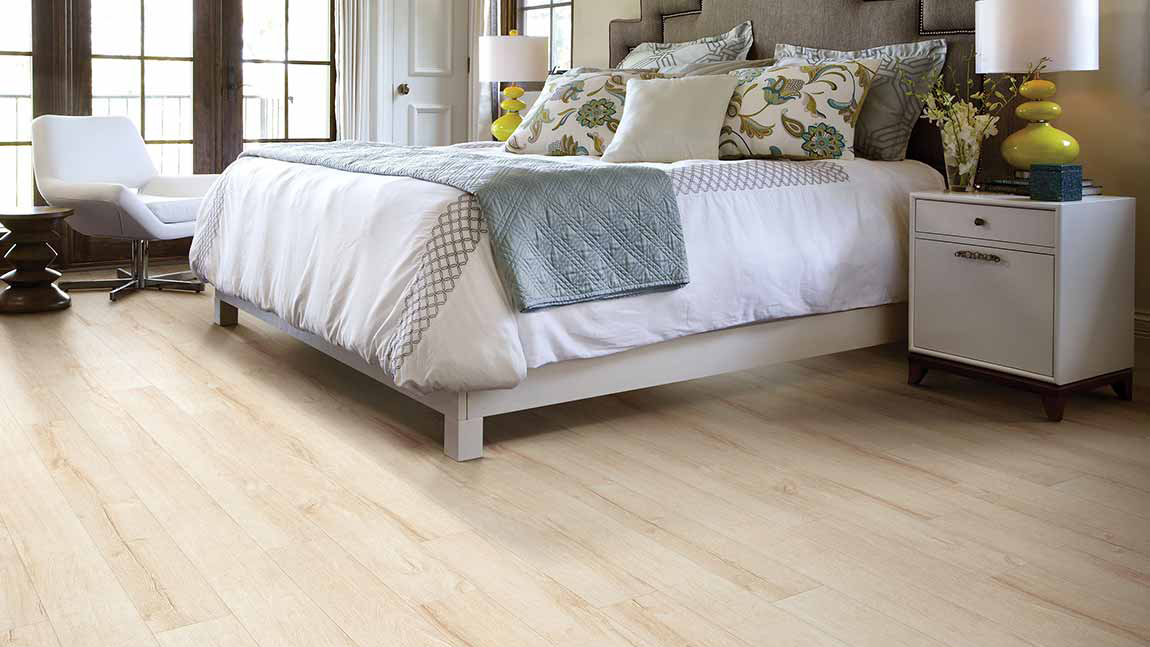 Types of Laminate Flooring
Flooring America Design Center is committed to bringing our customers affordable flooring options that are high-performing and look amazing. Every home or business has a different sense of design, which is why we offer a wide variety of laminate flooring to match any space. We proudly carry two types of laminate - laminate wood flooring and laminate tile flooring. Whichever you choose, both tile-look flooring and wood-look flooring are ideal choices you will love for years to come. Learn more about laminate flooring styles:
Laminate Wood Flooring

: If you dream of beautiful oak floors but your lifestyle and budget are incompatible, wood laminate flooring is the perfect substitute. This flooring combines the look and feel of natural wood with all the benefits of laminate flooring.

Laminate Tile Flooring:

While traditional tile flooring is an elegant addition to any project, many customers find tile laminate flooring better meets their budget and functional needs. Tile laminate is a popular choice for bathrooms, offering the tile aesthetic with a waterproof & scratch-proof seal.
How is Laminate Flooring Made?
Laminate offers a solid appearance and contains four distinct layers. It is manufactured with a base that protects against moisture and a core that withstands heavy foot traffic and everyday wear and tear. Two methods are used in manufacturing laminate flooring: the direct and high-pressure methods. Both methods produce gorgeous flooring in various colors and patterns, resembling wood and stone. Stunning and resilient laminate flooring is made using one of these two processes:
The

direct-pressure method

fuses all four laminate layers at once. This method makes the most affordable and common types of laminate flooring.

The

high-pressure method

fuses laminate's layers one at a time with higher amounts of weighted pressure and heat to produce the most durable forms of laminate flooring, making it ideal for commercial spaces.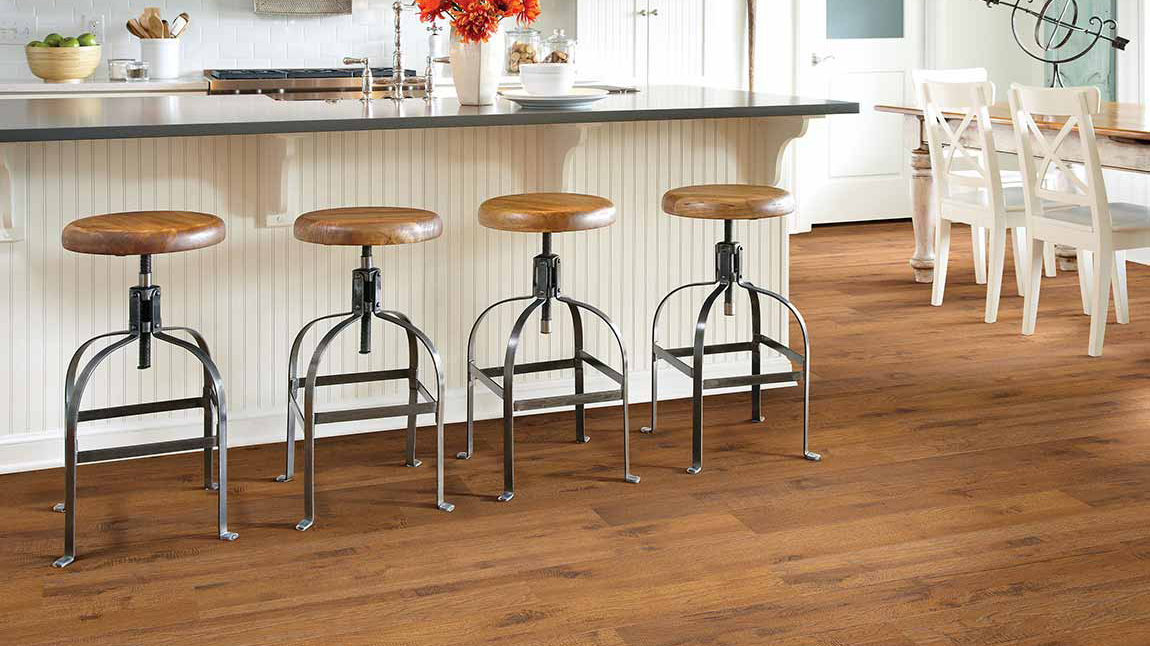 Benefits of Laminate Flooring
Laminate is an increasingly popular flooring choice among our customers due to its many functional advantages as well as its versatility in style. As an impressive and convincing alternative to high-end floorings such as hardwood and tile, laminate has become a favorite for active households. We only carry flooring from the best laminate brands and manufacturers in the industry, like Floorcraft, Shaw, Mohawk, Mannington, and more. Here are some of the many benefits of choosing laminate for your Fort Dodge, IA, home or business:
Manufactured to be highly durable and resilient

.

Hygienic and easy to keep clean.

Realistically

mimics hardwood and tile.

Scratch and water-resistant.

Affordable and less expensive than its traditional alternatives.

Comes in a variety of styles and colors.
Keeping Your Laminate Floors Clean
When it comes to cleaning and maintenance, a laminate floor is quick and easy. Most spills and messes can be easily wiped away with a damp mop or cloth. Give your laminate floor a quick sweep or vacuum if you notice and dirt or debris building up. It's as simple as that - no special polishes, waxes, or expensive product necessary when you invest in this hassle-free flooring. Easily protect your flooring so it lasts for years. You can also keep your laminate in pristine condition with these helpful tips:
Wipe up spills as soon as they occur.

Place a mat at the front and back doors to collect dirt.

Use floor protectors under the legs of couches, tables, and chairs to ease the weight.

Pick up furniture that needs to be moved, instead of sliding it across the floor.

Make sure your pets' nails are trimmed.

Always ask a professional before using any harsh chemicals to avoid damaging the finish.
Professional Laminate Flooring Installation
Rely on us to install your new laminate flooring! Our expert flooring installers have the skill and years of experience to deliver a precise and flawless finish. Once you choose your new laminate, we will work with you to schedule a time to perform the installation that works with your schedule. Whether upgrading the floors in one room of your home or laying new laminate flooring all throughout, take advantage of our competitive rates and fast installation services.
With our help, you never have to worry about your flooring renovation. Our promise of a quality job is backed by some of the best guarantees in the industry, including our Ultimate Confidence Guarantee. This is our promise to you that should you be unhappy with your new laminate flooring for any reason, give us a call within 30 days of your installation, and we will replace it with a similar product at no additional cost to you.


Contact us to learn more about our laminate selection and services! We proudly serve Fort Dodge, IA, and the surrounding areas.