Countertops in Fort Dodge, IA
When it's time to upgrade the old and outdated countertops in your home, Flooring America Design Center is your one-stop kitchen countertop solution. We offer different types of countertops at varying prices, sizes, styles, and materials. With so many options to choose from at our store, you are sure to find the ideal addition to your kitchen or bathroom. Our design specialists will work closely with you throughout the selection process to make sure you are happy with your purchase. Visit our showroom in Fort Dodge, IA, today to browse our countertop selections and talk about your project with our knowledgeable sales team!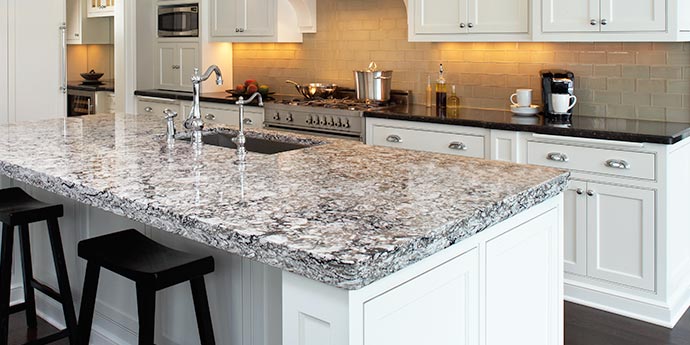 Why Upgrade Your Kitchen or Bathroom Countertops?
Countertops are one of the most important installations in your home. Having this workspace and storage space be as beautiful as it is functional is important for creating an enjoyable home environment. Our customers choose to upgrade their countertops for its various benefits, some of which include:
Increases the property value of your home.
Greatly enhances your interior design.
Offers a pleasant and functional workspace for meal prep and more.
Custom countertop solutions fit your space precisely.
Types of Kitchen & Bathroom Countertops Available
At Flooring America Design Center, we offer a variety of stylish kitchen and bathroom countertops. Our design specialists will work closely with you to understand your vision and meet your design expectations. Depending on your personal design tastes and lifestyle requirements, we'll help you choose from the following types of countertops available at our local Iowa store:
Stone Countertops
Stone is a naturally beautiful material that is extremely durable. We offer different types of stone countertops, allowing you to find the solution that fits seamlessly with your existing interior design.
Marble Countertops
No two pieces of marble are alike, making it a unique addition to any space. Available in varying patterns and hues, there is no style or scheme that can't be enhanced by one of the high-end marble countertops from our selection.
Granite Countertops
You simply can't go wrong by choosing to place classic granite countertops in the kitchen or bathroom. Its timeless appearance and guaranteed value make it a wise investment for even the choosiest of homeowners. It remains easy to clean and is available in countless colors and finishes.
Quartz Countertops
Quartz is becoming an increasingly popular alternative to other more costly countertop materials. Made from a combination of quartz, resins, polymers, and pigments, quartz countertops offer a granite-like appearance, along with proven durability. The controlled manufacturing process allows us to control the hue, pattern, and color of the surface.
Local Countertop Installation Services with Our Experts
When you purchase countertops from our catalog, we encourage you to take advantage of the countertop installation performed by on-staff experts. Our team has undergone extensive training to precisely install countertops swiftly. We make it our mission to deliver satisfactory results without greatly disturbing your day-to-day life.
We utilize proven tools and techniques to complete countertop installation jobs that look beautiful and last. Before we begin the installation process, we'll even provide you with professional measurements and a project estimate. Are you ready to learn more about countertops at Flooring America Design Center?
Contact us today to browse our countertop materials! We are proud to serve Fort Dodge, Iowa, and the surrounding areas.