Ceramic Tile in Fort Dodge IA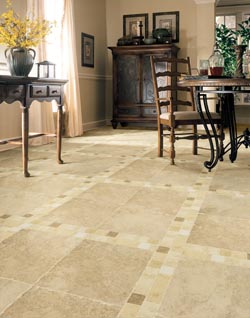 Do you want to update the flooring in your home with new ceramic tile? Carpet World Flooring America in Fort Dodge sells a variety of premium-quality ceramic floor tile in a range of colors to suit various styles. Whether you want something that is lively and colorful or you prefer neutral earth tones, you will be sure to find everything that you need to make over your floors at Carpet World Flooring America in Fort Dodge.


Reasons You'll Love Ceramic Tile
Whether you plan to add it throughout all of your living spaces or in one room, here are some advantages that you will enjoy when you add ceramic tile floors in your house:
Ease of maintenance: Cleaning tile is quick and easy with household cleaning solution and a mop

Unmatched strength: Exceptionally scratch- and water-resistant so it holds up to daily wear

Extraordinary versatility: Can be used on backsplashes, floors, countertops, walls, murals and more

Unparalleled value: One of the most cost-effective flooring options
Top-Notch Installation
Additionally, we offer affordable ceramic tile flooring installation at Carpet World Flooring America. We have a team of highly skilled craftsmen who have extensive experience installing flooring. They work efficiently so that you can walk on your new floors.


Sturdy, Long-Lasting Ceramic Tile
Enhance the interior of your home and enjoy a smart long-term investment by purchasing ceramic floor tiles. Our store only sells quality ceramic tiles designed with style and resiliency. The brand-name companies that create our ceramic tiles use proven manufacturing methods to ensure each tile has the strength and durability to meet the high standards we set for our flooring products.
Ceramic tiles are impressive flooring options for kitchen and bathroom floors, because they are particularly resistant to moisture. Water does not seep into the material and expand over time, which would otherwise cause cracked tiles and subfloor damage. They are also excellent for rooms with heavy foot traffic because they can be treated to provide slip resistance.
The material is extremely resilient, minimizing wear and tear that accompanies frequent use. In fact, you can easily remove any scuffmarks from ceramic floor tiles, so it takes little effort to restore your flooring to like-new condition.


The Elegance of Ceramic Tiling
Most of our customers want flooring that is attractive, practical, and unique. We offer an endless array of design options so we can customize your ceramic floor tiles to appear exactly as you want. These tiles come in many different patterns and colors, and our sales experts are here to help you choose the perfect combination to suit your needs and home décor. Whether it is for the bathroom, kitchen, hallway, or living room, ceramic tiling adds stylishness to any area or room.
Replacing your current flooring with ceramic tiles in your bathroom instantly increases the value of your home. This also maximizes the return value on your purchase. At the same time, installing ceramic flooring allows you to enjoy the immediate benefits of a luxurious floor that complements the aesthetics of your home's interior design.


Luxurious Ceramic Tile Countertops & Backsplashes
Due to the high quality of our ceramic products, many customers come to us for ceramic wall tile and countertops. You will be impressed at how ceramic tile countertops can instantly transform the entire appearance a room. Imagine having elegant countertops that highlight the interior style of your kitchen or bathroom. Best of all, they are incredibly easy to clean and maintain.
If you want to improve the appearance and functionality of your countertops, take advantage of our special deals on ceramic tile backsplash items. We can incorporate the backsplash with your current plans or we can replace your countertops for a brand new look. Allow us to handle the entire installation, saving you time and money while guaranteeing the process is properly completed. Are you ready to schedule a luxury ceramic tile installation appointment? Contact our showroom today at <PHONE>.



We proudly serve the communities of Fort Dodge, Webster City, Humboldt, Eagle Grove, Clarion, Algona, Rockwell City and Storm Lake, Iowa.
Professional Design Services Are Available