Cabinets in Fort Dodge, IA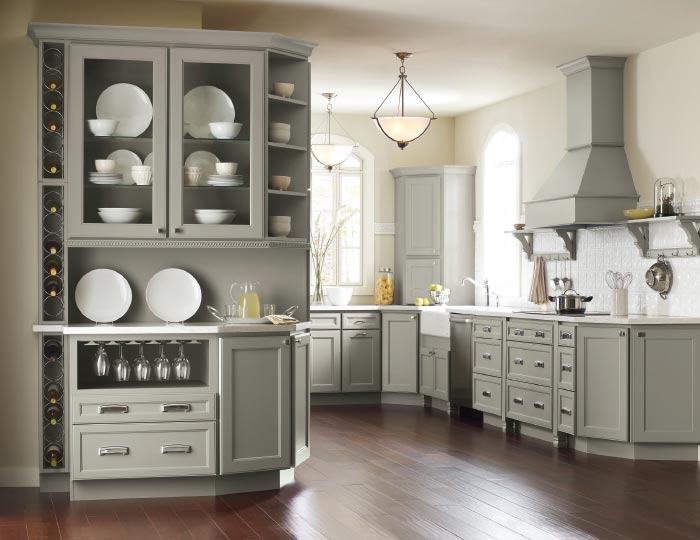 Keep every room in your home clean and organized with new cabinets. By combining functionality with innovative designs, our kitchen cabinets and bathroom vanities give you all of the storage space you need while adding a touch of elegance and charm to your home's décor. Our team is here to help you choose a style and size that fits your vision and works for you. We have three designers on staff that are here to help you find the perfect cabinets.
From carpet and hardwood flooring options to a full range of kitchen and bathroom vanities and cabinets, our store has everything you need to fully refurbish your property. Whether you're improving your home for your own enjoyment or in preparation to sell it, we have top-quality products to improve every room.
Put everything in its place with our selection of kitchen cabinets. With a variety of sizes and wood options available, you are sure to find a set that meets your storage needs, fits your design ideas, and stays within your budget. We provide high-end, custom cabinets for the discerning homeowner, as well as stock sets for the homeowner on a budget. However, whether you choose the elegant look of dark walnut or the rustic charm of oak, your cabinets help you keep your cooking and serving supplies perfectly organized and ultimately define the look and feel of your kitchen.
Tie your bathroom décor together with an eye-catching centerpiece. Versatile and functional, our stunning bathroom vanities keep your most personal items out of sight while giving your bathroom a finished, clean look, refreshing your décor and adding value to your home. Choose from a variety of sizes and styles to find the piece that best suits your space and meets your needs.
We have a stock of high-quality, pre-made cabinets and vanities that you can choose from to suit your interior design style. If you're not sure which style cabinets are best for your décor and budget, get in touch with our skilled and knowledgeable staff for advice and guidance.
Improve Your Home's Property Value and Style
If you're preparing to sell your home, adding new cabinets and vanities is a great way to boost the value of your property. In addition to improvements like hardwood floors or new carpeting, new custom cabinets and vanities are a great way to refresh the look and function of any kitchen or bathroom and increase the value of the property overall.
In addition to adding value to your home, custom cabinets and vanities can be as original as you want. Whether you're looking for cabinets in a specific color to match the rest of your home or you have a specific style of door you want including, our cabinet makers are able to accommodate virtually all of your needs.
If you're looking to purchase high-quality, pre-made cabinets for your kitchen or bathroom, our company offers a wide range of options by leading manufacturers. Choose from cabinets and vanities by Bertch™, Starmark Cabinetry™, Mid Continent Cabinetry™, and more. Whether you just need a single bathroom vanity or a full set of handcrafted kitchen cabinets, we have a full selection for you to choose from.

You spend a lot of time in your kitchen and bathrooms, so create a space that works just for you. While stock cabinets have the benefit of being more affordable, nothing can beat the superior quality and limitless design options of custom cabinets. Our expert artisans bring your vision to life, creating truly unique cabinets that reflect your needs, space, and personality.
Whether you need a few semi-custom cabinets to make your kitchen slightly more efficient or an entirely new custom set to finish a recent remodel, we are here to help. Our trusted partners at Bertch offer more than 50,000 color, wood, and style combinations, giving you a tremendous amount of creative freedom.
Cabinet Installation Made Easy
Don't risk watching your investment come crashing down. Our expert cabinet installation team takes care of measuring, cutting, hanging, and finishing your cabinets for you, saving you time and money. With our help, you can rest assured that your cabinets will look level, cohesive, and beautiful once they are installed. We even fully clean up your space to leave it looking just like new. If you discover a problem with our installation after we are done, simply give us a call. We are more than happy to do it again at absolutely no cost to you.
In addition to protecting your own investment, it's important to get professional cabinet installation to prevent injury. Most kitchen cabinets are used to store heavy glass and ceramic dishes, pots and pans, and other kitchen gear. In improperly installed cabinets, this can result in extreme stress on your cabinets and can even cause your cabinets to fall, causing significant damage to the cabinets, dishes, and anyone in the area.
Purchasing and installing new cabinets can be a significant investment and something we know you do not take lightly. That's why we offer every customer our Ultimate Guarantee for our flooring and cabinet installation services. If you do not love your new cabinets or find a lower price, we will do everything we can to make it right.
Contact us today to schedule cabinet installation with our skilled professionals. We proudly serve communities in Fort Dodge, Webster City, Humboldt, Eagle Grove, and Clarion, Iowa, as well as the surrounding areas..