Blinds in Fort Dodge, IA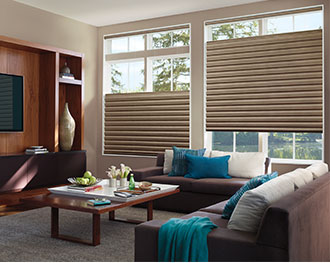 Are you shopping for inexpensive, yet stylish window coverings? Turn to our home furnishing store for the latest and greatest deals on shades and blinds in Fort Dodge, IA. With our extensive experience, as well as our shop's impressive inventory, we're well-equipped to recommend window coverings for your budget and your lifestyle. Stop by today to speak with a specialist and start evaluating your options for wood blinds, vinyl blinds, and more.
There's no better way to shop for home furnishings than in person, so be sure to stop by our showroom to see our selection for yourself. In addition to our selection of window treatments for any home and budget, we offer assistance from a skilled team of professionals who are happy to suggest treatments to suit your personal décor preferences and practical needs. Let us know what you're looking for and we'll handle the rest!
If you're unsure which window covering is right for your needs, don't hesitate to ask a member of our team – after all, your satisfaction is always our top priority. Whether you prefer contemporary wood blinds or something classic, such as traditional vinyl blinds, you're sure to find just what you need to complete your home at our store.
Bring us photos of your current décor or inspiration you've pulled from the Internet or a magazine. We will escort you around the showroom to find the right window coverings. Sleek vinyl is a common option, while woven wood and wood panel blinds are popular and can be ordered in any stain to suit all stylistic preferences.

Explore Stylish Window Coverings
Are you a big fan of simple, pull-down shades? Perhaps you prefer something with a touch of bamboo for an exotic and all-natural look. No matter your taste, you're sure to find window coverings you love when you stop by to see what our team has in store. Whether you're searching for something grand, classic, or rustic, it's easy to get just what you need when you shop our extensive selection of window treatments.
Because of their height on the wall, blinds and other treatments are often one of the first things you notice when you enter a room. Want to tone down the appearance of your windows to play up the other features in your home? We will find a neutral, subtle, yet still elegant treatment so you can draw attention to your furnishings or crown molding instead. Want a dramatic look? Then rest easy knowing we have the statement window treatments you are looking for.
Not all window coverings are right for every project. In fact, the blinds or shades you purchase will likely dramatically change the appearance of your room. That's why it makes sense to weigh all your options before settling on any one product. To that end, our design specialists are always ready to help you evaluate your aesthetic preferences and goals, to determine which of our coverings is right for your needs.
The amount of light our blinds filters in affects the look of your room. We take the time to review how each treatment affects the light in your home to set the right mood. You can also install heavy-duty window covers to block out the light entirely, so you can sleep in more soundly and feel more rested on the weekends or after your night shift is completed.


Wood Blinds versus Vinyl Blinds
Thanks to advances in window covering manufacturing processes, modern shops like ours are able to offer shoppers larger selections than ever. You'll find both wood and vinyl window blinds at our store; however, choosing the one that's right for your needs can be tricky. Just team up with one of our window treatment specialists to learn more about the benefits of each, or simply read on to get the scoop.
Wood Blinds: If you're a fan of the "natural" look in your home or business, you won't go wrong with wood window coverings. Choose from a variety of shades that capture the unique texture and beauty of your favorite wood varieties. Finding wood blinds to complement your interior's existing design scheme is even easier when you work alongside our specialists, so be sure to mention your goals for your home or business.

Vinyl Blinds: When it comes to modern blinds, vinyl is setting the standard for other materials with its unique durability and appearance. Affordable, moisture-proof, and easy to clean, vinyl blinds are excellent choices for shoppers that prefer to "set it and forget it" when dealing with home furnishings. They last for many years and will continue to look as good as the day you purchased them.


Ask About Professional Installation
You've explored our showroom, sorted through the options, and found blinds that add style, comfort, and sophistication to your home or business's décor. What do you do now? Ensure your newfound window coverings look and perform as intended with the help of our professionals. We offer professional installation services for shades, blinds, and other window covering products.
Our technicians are all extremely knowledgeable about all the products we sell. Because of our expertise, you never have to worry about improper installation work, as you would with a third-party contractor. Instead, you can rest assured that our friendly technicians will effectively and quickly install your beautiful new window treatments. We take our time to ensure we respect the homes of our customers and do not disturb the rest of their houses by tracking in dirt or by damaging anything during the installation process.
Contact us today to find out more about shades and blinds. We serve shoppers throughout in Fort Dodge, Iowa, and the surrounding areas.
Professional Design Services Are Available